Blish Genealogy Formatting, Timeline Concept and Structure, Database Source and Structure
are all copyright © 1999-2006 Charles Benjamin Blish
Genealogy data is free of copyright restrictions

8802
Justin Travis Gregory 12 [m]
12th Generation
Personal Details
Born
Living - Suppressed
Birthplace
Douglas, WY, USA
Baptized
Living - Suppressed
Baptized at...
No Entry
Baptized by...
No Entry
Baptized in...
No Entry
Occupation(s)
Student, martial artist
Died
Living - Suppressed
Died at...
No Entry
Cause of Death
No Entry
Burial Place
No Entry
Disposition
No Entry
Parents
Spouses, Mates & Children
Immediate Family Tree

Personalized History Timeline
Insufficient record precision for timeline
Additional Information
Justin Travis Gregory graduated Glasgow high school at Glasgow, Montana USA.

Justin Gregory is a brilliant, insightful person with a notably twisted and sardonic sense of humor. He is presently studying computer science, mathematics and related technical subjects in anticipation of a career in the field of computers. He dependably scores at the very top of his class.

He is quite tall, at about six feet six inches, presenting a commanding presence that would be intimidating if it weren't for the everpresent humor with which he enhances any social gathering.

Justin is two ranks short of a 1st dan black belt, and this compiler, who has also been his martial arts instructor, has high hopes that he will return to the practice once the demands of college are out of the way.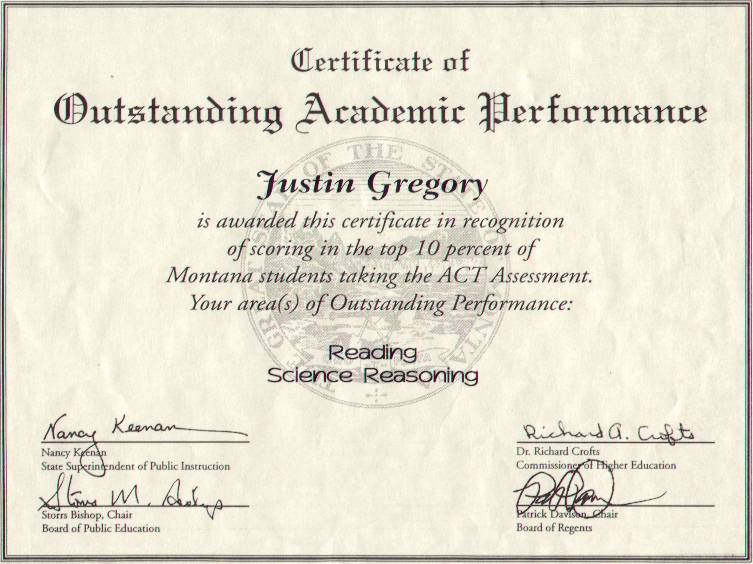 A certificate earned in high school
---
Blish Genealogy Formatting, Timeline Concept and Structure, Database Source and Structure
are all copyright © 1999-2006 Charles Benjamin Blish
Genealogy data is free of copyright restrictions

Generated by BenGen V0.R32